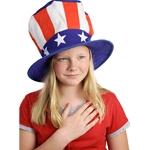 Various activities were organized to celebrate Independence Day. Parades, family activities and concerts were a part of the Independence Day celebrations. Fourth of July being a national day and a federal holiday, brought together all the people of the United States.
Apart from all those leisure activities, USCIS planned special naturalization ceremonies. 4,000 immigrants are new American citizens after taking the Oath of Allegiance. Becoming American citizens is the dream of many immigrants who are permanent residents in the United States, for many years. The special naturalization ceremonies helped such immigrants to achieve their American goal, by allowing them to become citizens of the United States.
Many new citizens celebrated the Independence day as US citizens for the first time. As there is no age limit for a person to become a US citizen through the naturalization process, many elderly people also got a chance to become US citizens. The most exalting part of the special naturalization ceremonies is the administration of the Oath of Allegiance. Most of the new citizens were moved when they were presented the naturalization certificates. Most naturalization ceremonies last for about an hour.
A special naturalization ceremony which was held in the Old Sacramento Schoolhouse Museum on July 3rd granted citizenship certificates to 14 children of immigrants. This ceremony is one of the many special naturalization ceremonies being held to commemorate the nation's 236th birthday. Those children who were granted citizenship certificates had already derived citizenship through their parents.
The parents who were once immigrants, became US citizens through the naturalization process before their children turned 18. 14 children of such naturalized US citizen parents were provided citizenship certificates, as a proof of their legal status in the United States as US citizens. USCIS field officer of Sacramento, Michael Biggs said that the citizenship certificates given to them are important identity documents, like a passport which they must possess forever. The certificates given to the children contained a passport-style photograph with other information including their name, country of origin, date of birth and the alien registration number.