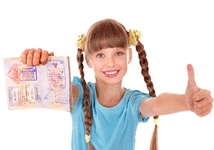 The visa bulletin published by the United States summarizes the availability of immigrant visa numbers. The diversity visa lottery which is conducted under the 203(c) of the Immigration and Nationality Act, offers 55,000 permanent resident diversity visas every year. The visas are allocated to people hailing from countries with low admissions to the United States over the past five years. 5,000 visas out of the 55,000 visas allotted for the DV lottery program will be issued under the NACARA program. Hence, 50,000 diversity visas will be offered through the Green Card lottery program and these visas are divided among six geographic areas. According to the allotment, each eligible country will receive no more than seven percent of the diversity visas made available in a year.
For the month of August 2012, immigrant visa numbers for the DV-2012 applicants who are qualified are current. Selected applicants may not make any claim or derive any benefit from their DV lottery registration after the last date of the program, September 30, 2012. The visa numbers may exhaust even before the end of September 2012. This also applies to the eligible dependents of the principal applicant. They will be entitled to derivative status only until September 30.
Once the visas allotted for DV-2012 are exhausted, immigrant visas for the DV-2013 will be issued. As the DV-2012 program will end as of September 30, visa numbers for the qualified winners of DV-2013 may be made available starting from October 2012. Immigrant visa numbers will be made available based on the case numbers allotted to the winners of the Green Card lottery program. The case numbers start from the number 1, where the case number will begin with the year and the particular region followed by the specific case number allotted to each qualified winner. Immigrant visa number will be made available for the first case number followed by the other case numbers. Visa numbers will be made available till the end of the DV-2013 program, 30th September 2013 or until all the allotted visas are exhausted.
As the immigrant visa numbers are made current every month, the winners can keep track of the visa bulletin published every month by the US government, to know when they can file petitions for immigrant visas. It is because they can file applications for immigrant visas only when their case numbers become current.