United States immigration is on the rise. According to recently released data from United States Immigration and Citizenship Services (USCIS), there has been a dramatic increase in immigration and naturalization applications over the last year. This has resulted in an increased backlog of pending applications and longer processing times.
A side by side comparison of October 2011 and October 2012 shows a 59% increase in received immigration applications. Surprisingly, the percentage of applications denied has not increased, but rather the backlog has grown. In 2011, the number of pending applications was 1,810,462 compared to 2012 where it sits at 2,202,170 – an increase of 22%.
What this means for immigration applicants? Apply now for a green card or prepare for longer processing times in the future. Some immigrant categories, particularly lower priority family preference visas, have backlogs of several years. However there are others, such as in demand EB employment visas, which are processed more quickly.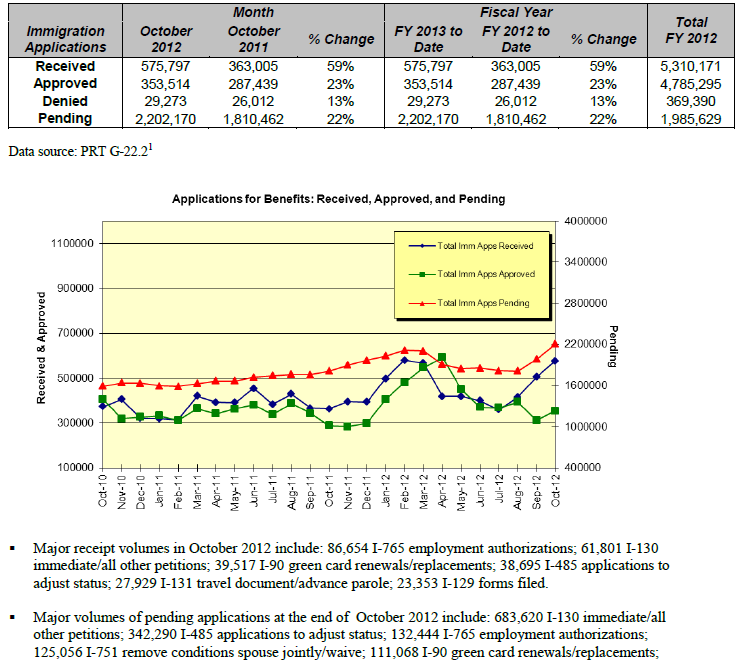 Source: USCIS

What is a Backlog?
All immigration visas are restricted by yearly quotas (fiscal year), except IR visas which are unlimited and are only available for immediate family members of U.S. citizens. For example, the yearly quota for the U visa is 10,000 meaning that once the quota has been met – 10,000 U visas have been issued – all other applications will be pending until the next year. The group of pending applications is referred to as a backlog.
Wait for a Visa Number to Become Available
Because there is a cap on the number of visas allotted for each category, you must wait for a visa number to become available for you after your immigration petition has been approved and before filing to adjust your status to permanent residence.
Visa Caps 2013
The annual numerical limits for 2013 fiscal year immigration visas are the following:
FAMILY

Preference category

Foreign State

Worldwide

F1, unmarried sons/ daughters of AMCITS

1,638

23,400

FX, F2A cases with older priority dates

65,950

F2A, spouse and under 21 children of LPR

6,151

21,984

F2B, unmarried sons/daughters of LPR

1,838

26,266

F3, married sons/daughters of AMCITS

1,638

23,400

F4, brothers/sisters of AMCITS and their spouses & children

4,555

65,000
EMPLOYMENT

Preference category

China

All Others

Worldwide

E1, priority workers

2,803

2,803

40,040

E2, educated professionals & persons with exceptional ability

2,803

2,803

40,040

E3/EW, skilled & un-skilled workers, their spouses and children

2,503

2,803

4,040

E4/SR, certain special immigrants

691

696

9,940

E5, immigrant investors

0

695

9,940
Source: U.S. Department of State