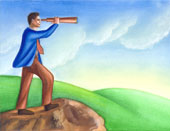 The next Diversity Visa lottery (Green Card lottery) program is the DV-2014. Applications have to be filed online through the E-DV in 2012 for the fiscal year 2014. Approximately, a month should be available for you to file the application form for free. You will be required to complete and file it within 60 minutes. Also note that an individual can submit only one application form for this DV lottery program as the main applicant. This program is designed in such a way that 50,000 visas will be issued to eligible country people. The visas will be issued in such a way that the regions with low rates of immigration only qualify for the program. Note that citizens of countries from where more than 50,000 individuals have immigrated to the US during the last five years do not qualify.
To participate in this lottery program, it is not necessary that you have relatives in the US, have a job offer in the US or you have to write and speak English. You have to meet the simple eligibility requirements and be able to work and help yourself. Remember you will not be eligible if you are a criminal. Individuals who meet the education and work experience requirements and few other requirements will be able to immigrate to the US. All eligible applicants can submit only one entry for the 2014 DV lottery program. However, a husband and wife each can submit one application if each of them fulfill the eligibility requirements. If one of them is selected, the spouse will be eligible for the derivative status. In one entry, the husband will be the primary applicant and in the other entry, the wife will be the primary applicant.
It is very important you submit your online application form within the 60 minute submission period. This form, that can be filed for no fee, cannot be saved and used to submit it later. The Kentucky Consular Center (KCC) will select the winners and DV 2014 applicants will be able to know their status during the month of May 2013 till June 2014. Those selected winners will get instructions on the next course of action Winners have to attend an interview according to their case numbers some time starting 1st October 2013 till 30th September 2014 or till the visas get exhausted. Winners of DV-2014 living in the US can adjust their status with the USCIS once their case numbers become current in any month. Once they receive the immigrant visa, winners have to enter the US before it expires.