Home > Green Card Replacement
Green Card Replacement
Applying for green card replacement is necessary if you have lost it or due to one of the reasons listed below. Green cards are documents that show your right to live and work in the United States, they are also called permanent resident cards.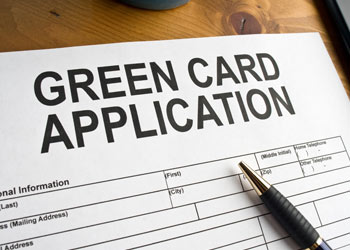 Reasons for Green Card Replacement:
If it was lost or misplaced,
If it was stolen,
If it was damaged beyond recognition,
Or if it was in any way destroyed,
If you were a commuter and are now residing in the United States, or vice versa,
If your status has been changed to permanent resident status,
If you have an outdated registration document,
If your card is incorrectly printed,
If your name has changed,
If your green card never arrived at your home, or,
If your green card expires before your 16th birthday you don't have to have it replaced when you turn 14.
How do I Replace my Green Card?
In order to replace your green card you must fill out and submit an I-90 form and pay the associated fees. One quick and easy way to E-file your I-90 form is online or you can submit the Application to Replace Permanent Resident Card (I-90) through the mail with the check or money order for the fees.
After your submittal you will be contacted regarding information on where to go for your biometric processing.
Green Card Replacement Fees:
The United States Citizenship and Immigration Services offer the Form I-90 for a cost of $450. This figure is composed of the general form fee which is $365 and the biometric processing fee which is $85.
How do I Check my Green Card Replacement Application Status?
You can check the status of your application here 72 hours after you have submitted your forms and payment.
If your Green Card Replacement is Denied:
It is very important that you take the time to make sure that your I-90 form is filled out correctly to ensure its acceptance. However, the United States government may decide to deny your application to replace your green card in which case your green card is said to be revoked. This might be done for a variety of reasons and the government will inform you of them in writing. This letter will also include information regarding when and how to file for an appeal.
Green Card Replacement General Information:
It is probably a good idea to get your green card replaced as soon as possible. Federal law states that if you are a permanent resident you must have your green card on your person at all times. The fine is $100 dollars, which is not very steep, but is a serious inconvenience and unavoidable.