Home > Green Card Renewal
Green Card Renewal
Applying for a green card renewal is required for all permanent residents in the United States with an expiring or expired green card. The green card is also known as a permanent resident card. The green card is evidence of your legal right to live and work in the United States and is valid for 10 years. However, keep in mind that is it recommended to renew your green card within six months of the expiration date located on the front of your green card.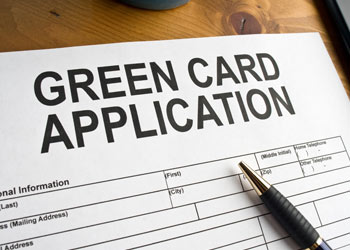 How to Renew Green Card in the United States?
There are two ways to file form I-90 for green card renewal:
Electronic filing (e-filing) green card renewal via form I-90 online, or;
File a paper version of the green card renewal via form I-90 and submit by mail
How to Renew Green Card if you are Currently not in the United States?
If your green card will expire within 6 months, but you plan to return within 1 year of your departure date from the U.S. and before green card expires, you can file for green card renewal when you return to the U.S.
If you green card expires and you did not apply for the green card renewal prior to leaving the U.S., you should contact the nearest USCIS office, U.S. consulate or U.S Port of Entry before filing form I-90 for a green card renewal.
Green Card Renewal Fees:
The USCIS fees for renewing your green card are $450. This includes the standard form fee and the biometric fee.
Green Card Renewal Application Status Check:
After you have submitted the I-90 form you will receive a receipt. With this receipt your Application Registration Number you can check the status of your application online at the USCIS website. Your application status will generally be available 72 hours after submittal.
Green Card Renewal Denial:
If for some reason the government denies your application, it can be said to be revoked. You will receive a notice in the mail for why it is revoked and the appropriate office for appealing that decision. Please read the I-90 filing instructions carefully to ensure you have filled out the application accurately and completely.
Green Card Renewal in General:
It is important to note that the federal government has relatively strict laws regarding green cards. You must have your green card on your person at all times or else face a possible fine. This should not be a problem as long as you apply well in advance for your green card renewal.
Green Card Renewal for Conditional Residents:
If you are a conditional resident and your green card is expiring you cannot apply for renewal with the I-90 application. If fact, you must remove those conditions on your green card by filing form I-751, Petition to Remove Conditions of Residence.