Home > Green Card Family
Family Based Green Cards
Family Based Green Card Types:
There are several categories by which you can apply for a green card through family including immediate relatives, other family members of a citizen or other family members of permanent residents among many other options.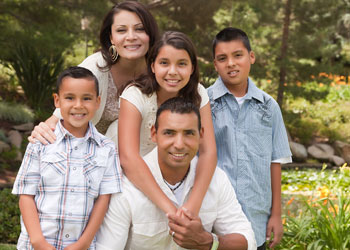 Getting a Green Card through Immediate Relatives:
The government defines an immediate relative as being a spouse, a unmarried child under 21 or a parent. Citizens cannot sponsor their parent if they happen to be less than 21 years of age. There is no cap on the number of green cards to be granted to immediate relatives so you will not have to wait in a queue!
There are a few different ways to apply for a green card through immediate relatives: Concurrent filing, adjustment of status filing and consular filing.
Getting a Green Card as a Family Member of a United States Citizen or Permanent Resident:
Other than being an immediate relative to a United States citizen other family members also qualify for a green card. However, the federal government limits the number of visas granted to these categories based upon a preference system. First preference is the most likely to be granted a visa and fourth preference is the least likely. The number of visas granted is also based upon what country is applying. No more than seven percent of the total family green card visas can come from any one country.
First preference family members are composed of unmarried children over 21 years of age of United States citizens. There are only 23,400 visas available for this category in a year, but this number is sometimes higher because any unused visas in the fourth preference category are added to the first preference. The back logs for these visas can be up to 18 years.
Second preference family members are spouses, unmarried minor children or unmarried sons or daughters over 21 of a permanent resident. There are 114,200 of these visas available, but the wait for one can be over a decade.
Married sons and daughters of United States citizens are categorized in third preference. 23,400 of these visas are available per year, but the quota limit can be as high as 19 years.
Brothers and sisters of United States citizens are classified as fourth priority and there are 65,000 of these visas available. However, the wait could be over 20 years long.
Family Based Green Cards through Special Circumstances:
You may also be eligible for a green card through some special circumstances including the VAWA program or a K fiancé visa. Children born in the United States to foreign diplomats are also eligible to get green cards through this category.
The Violence Against Women Act provides rights to spouses and children of citizens or permanent residents who abuse them. Spouses, children or parents of children who have been abused can file for a green card for themselves apart from their abuser therefore leading to their safety and independence. For more information on how to file for a green card under VAWA contact the National Domestic Violence website
You can receive a green card while holding a K classification visa as a fiancé waiting to marry a United States citizen. This is to prevent fiancés from long separations in different countries.
Children born in the United States to a foreign diplomat such as an ambassador, a minister, a counselor or a secretary are also eligible for a green card so that they may remain with their parent. However, the child must have remained in residence in the United States since birth to be eligible.
Concurrent Filing:
Concurrent filing is when you file for your green card and your sponsor files your immigration petition at the same time. This means that you would file the Application to Register Permanent Residence or Adjust Status form (I-485) and your sponsor will file a Petition for Alien Relative form (I-130) simultaneously.
Adjustment of Status and Concurrent Filing:
If you are already in the United States you would need to simply adjust your status to permanent resident. This means that your sponsor would submit the appropriate petition to the USCIS in this case a Form I-130 and then when you receive Form I-797, Notice of Action, you would apply for permanent residence status with Form I-485.
Getting Your Green Card:
You will then be contacted by an Application Support Center which will ask you to come in to provide biometric data as part of the process. You may also have to attend an interview where the official will determine your suitability for immigration.
After this process is complete you will receive your green card in the mail and are now a permanent resident of the United States!
Changes in Your Status that May Affect your Green Card Application Process:
If you happen to turn 21, get married or if your sponsor becomes a United States citizen while you are waiting for your visa you will have to notify the United States Citizenship and Immigration Services.
If you are applying as a child of a United States citizen and you turn 21 your preference category will change from first to second. Unfortunately this will likely delay your green card process.
If you are the unmarried child of a permanent resident and you get married you will lose your ability to apply for a visa and the green card process is stopped.
However, if during your wait your sponsor changes status from permanent resident to United States citizen you might be able to get into the country sooner because the government has a higher preference for the family of citizens than those of permanent residents.