Home > Employment Green Card
Employment Based Green Card
A green card is a document that allows you to legally work and live in the United States. One of the many ways to get a green card is by getting a job in the country. In order to do this you generally must have the company that you will work for sponsor you. Your company will sponsor you by filing an Immigrant Petition for Alien Worker (I-140). Once that has been approved by the United States Citizenship and Immigration Services you are to file for Application to Register Permanent Residence (I-485).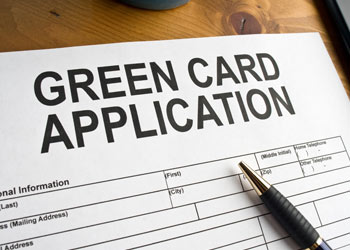 After these forms have been approved you will need to submit your biometric data and potentially be interviewed by USCIS authorities. If all goes well, you will receive your green card in the mail and be an official and legal permanent resident!
Get Your Green Card through a Job:
One way to get a green card through employment is by getting a permanent job in the United States and having your employer file a Form I-140. Once this form is filed you will then file an Application to Register Permanent Residence with the United States Citizenship and Immigration Services.
If you are applying for a green card through an employer you will need some specific documentation when filing for your green card:
A Form I-94. This is the document that you receive from customs when you enter a United States entry terminal or port.
The approval notice from your application to immigrate.
A written document from your employer offering you a job.
Recent photographs in color.
Your biographic data information, form G-325A.
A form confirming your required medical examination. This form is called an I-693.
If you or a member of your family owns at least a percent of the company which you will be working for you will need to submit an Affidavit of Support also known as an I-864.
The time it will take to get your green card is dependent upon the time of year you apply and what kind of job you will hold. People with "extraordinary" ability in business, science or academics have many visas available to them. Indeed, these categories are almost always current in the Visa Bulletin, meaning you can apply almost any time of year. Skilled workers or professionals may have to wait for up to nine years depending upon which country they originate from.
Invest in the US and Get a Green Card:
If you happen to have $1,000,000 waiting to be invested somewhere in the United States you can get a green card on the basis of investment. You don't necessarily need a full million dollars to get a green card on this basis, the government may issue you a conditional green card if you invest $500,000 in an area with unusually high unemployment or in a more rural area.
This is not a very popular category for getting green cards so it is more often than not current on the visa bulletin.
To start the process you must file a Form I-526 with the USCIS. This form costs $1,500 to submit. Then you will apply to permanent residence with the I-485 which costs $1,070 with the biometric processing fee included.
Sponsor Yourself for a Green Card:
Depending upon your abilities you might be able to petition for yourself to enter the United States. The government only lets two groups of people do this:
(1) You could show that your being in the United States would be in its interest and for that you would have to have a National Interest Waiver.
(2) Or you could be particularly successful in your field. However, in order to get a green by self-petition you would need to be extraordinarily special. Winners of internationally recognized awards or especially notable individuals are allowed to apply. The government has last say on whether or not you can self-sponsor for a green card.
Before you file for your adjustment to permanent status you will have to file a Form I-140. This form is generally filled out by employers wanting to petition for employees to live and work in the United States, but since you are sponsoring yourself you will be filling this form out.
Upon application for your green card, you will need certain documents:
G-325A. This is a form that simply details your biographical information for the government's records.
I-693. This is the record of your medical examination by a civil surgeon.
I-94. This is the form that you are given when you are admitted to the country by customs.
Two passport-sized, color photographs.
And if your immigration petition has already been approved you should bring a copy of that as well.
Special Circumstances in which You Can Get a Green Card through Work:
The following list is of some of the additional ways by which you can get a green card through employment:
If you are a religious worker such as a volunteer or missionary,
An employee of the Panama Canal,
A translator of Iraqi or Afghan languages,
A broadcaster,
Or an Iraqi or Afghan who assisted the United States in some capacity.
Depending upon what category you chose to file under your application process may vary, so you should determine which green card process you want to file under and then proceed from there.