Home > Citizenship Application
Citizenship Application
The Citizenship Application Process
The Citizenship Application Process is the most important determinant to becoming a naturalized citizen. Completing applications correctly and submitting the proper supporting documents are vital to your success. If, unfortunately, you do not complete the N-400 application correctly or do not collect all the required supporting documents your application may be rejected or you may have to reapply which could become expensive and delay the already lengthy citizenship process. The following is a list of the appropriate information you will need for your application to become a United States citizen.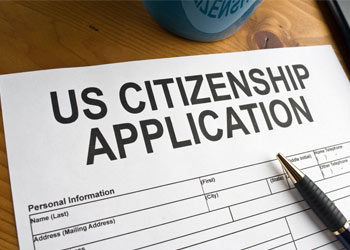 Things You Will Need for the Citizenship Application Process
You will need to complete the N-400 application if you wish to apply for citizenship. This form can be found at the USCIS website or through their customer service telephone line.
Along with your application you will need to include two photographs. The photographs need to meet these standards:

Passport style, meaning that you cannot smile when the photograph is being taken.
They need to have enough margin space for you to sign them during your interview.
They need to be unmounted and on a white background.
They need to be recent, meaning that they were taken 30 days before the day of submittal.
Also, print your name and alien number on the backs of the photos. Be sure to write lightly to not mar the face of the photo.

You will have to include a copy of the front and back of your green card.
An original G-28 form if an attorney is acting on your behalf.
The document that effected your name change if it is indeed different from the name you were born with.
In the case of becoming a citizen through your spouse you should send this information:

Evidence that your spouse is a United States citizen and has been for at least three years.
Your marriage certificate to that particular spouse.
If a previous marriage ended you will need to provide documentation that the marriage is legally and officially over.
Documents that have both your name and your spouse's name on them.

If you are applying to be a citizen through the military you will need to submit an original N-426 form, also known as a Request for Certification of Military or Naval Service.
Documents proving that you maintained ties to the United States will have to be provided if you ever left the country for more than six months.
Documentation for any children you may have who do not live with you.
Original court documents if you have ever been arrested whether or not anyone pressed charges.
Original court documents for if you ever spent any amount of time incarcerated as well as proof that you finished your sentence.
Original court documents for if you had an arrest or conviction that was expunged.
Documents explaining why you failed to file income tax returns while residing in the United States if you did so.
Documentation from the IRS that indicates that you plan to pay any back-owed taxes if you have any.
An N-648 if you are exempt from any requirements due to disability.
Proof that you do not need to register with the Selective Service if you are exempt from that.
You will also have to include a check or money order, made payable to the Department of Homeland Security, for $680. This is composed of the filing fee ($595) and the biometric services fee ($85).
Submitting Your Citizenship Application
After you have collected all of the above supporting documents you send the package in to the designated office. Depending upon what region you live in you will send it one of two places. You can find a comprehensive list of these places below.
Note: The United States government is liable to change the information contained in the graph below without notice, so we recommend that you check with the United States Citizenship and Immigration Services website for the appropriate mailing location before submitting your Citizenship application.
Where to Send Your completed Form N-400:
If You Reside in:
Send your Application Here:
Alaska
Montana
USCIS Lockbox Facility
Arizona
Nebraska
USCIS
California
Nevada
P.O. Box 21251
Colorado
North Dakota
Phoenix, AZ 85036
Hawaii
Ohio
or...
Idaho
Oregon
Private Courier (non-USPS)
Illinois
South Dakota
Deliveries:
Indiana
Utah
USCIS
Iowa
Washington
Attention: N-400
Kansas
Wisconsin
1820 E. Skyharbor Circle S.
Michigan
Wyoming
Suite 100
Minnesota
Territory of Guam
Phoenix, AZ 85034
Missouri
Northern Mariana Islands,
If You Reside in:
Send your Application Here:
Alabama
New Mexico
USCIS Lockbox Facility
Arkansas
New York
USCIS
Connecticut
North Carolina
P.O. Box 660060
Delaware
Oklahoma
Dallas, TX 75266
District of Columbia
Pennsylvania
or...
Florida
Puerto Rico
Private Courier (non-USPS)
Georgia
Rhode Island
Deliveries:
Kentucky
South Carolina
USCIS
Louisiana
Tennessee
Attention: N-400
Maine
Texas
2501 S. State Hwy 121 Business
Maryland
Vermont
Suite 400
Massachusetts
Virginia
Lewisville, TX 75067
Mississippi
West Virginia
New Hampshire
U.S. Virgin Islands
New Jersey