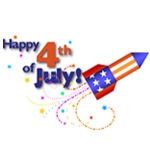 Independence Day of the United States is diversely known as the Fourth of July. July 4th has been a national holiday in the United States since 1941. From the year 1776 till date, 4th of July is being celebrated as the nation's Independence Day. It is because the declaration of Independence was adopted on this day and is said to be the birthday of America. Hence this day is celebrated with parades, fireworks, barbecues, and concerts. The Statue of Liberty in America stands for the Independence of America and it also represents the freedom offered by the country to the people who enter America.
Earlier, some colonists celebrated the birth of independence during the summer of 1776, by holding mock funerals for King George III. They did so to symbolize the end of the hold of monarchy on the United States. They also celebrated the victory of liberty. Celebrations included bonfires, parades and concerts. The first national readings of the Declaration of Independence accompanied firing of cannons and muskets immediately after it was adopted.
The Americans observe the Independence Day every year, after the Revolutionary war. These celebrations created a feeling of unity among the people of America. These days, Americans celebrate their Independence day with their families by attending picnics or barbecues. Decorations for the Independence day are mostly colored red, white and blue which are the colors in the American flag. Fireworks displays occur in the evening at parks or town squares and parades in the morning. Patriotic songs often accompany the Independence Day fireworks. The largest fireworks display is mostly found in New York City.
One of the most busiest travel periods of America is the first week of July. As the Fourth of July falls in mid-summer, the Independence Day has become a main focus of leisure time activities. It has also become a juncture for family get-togethers. To honor the Independence Day, many people display the American flag in their homes. This day is the largest birthday celebration, enjoyed by all Americans as is it is a day of pride and patriotism. Independence day is one of the important and paid holidays for government officials. Government offices, post offices, banks and local businesses will be closed on this holiday and hence this day brings all the Americans together.
Many public and private events are held in order to celebrate the history and tradition of America. As it is summer in America, all the Independence day celebrations take place outdoors. Apart from the celebrations, many American politicians appear at public events in order to demonstrate their support towards the American history, heritage and the people America. As a part of the celebrations, the Americans express their gratitude and thank their first generation for the freedom and independence.