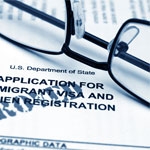 Once you get to know that you that you are one among the lucky winners to be selected for an immigrant visa through the DV lottery program, the next thing that you must do is get yourself prepared for the immigrant visa interview. The only way to obtain your winning notification is through the entrant status check on the E-DV website, as you will not receive any mail or e-mail, if you had won the lottery.
Make sure that you satisfy all the DV lottery eligibility requirements in terms of education and work experience. As the primary applicant, you must complete and submit Form DSP-122, Supplemental Registration for the Diversity Immigrant Visa Program and Part I and II of Form DS-230, Application for Immigrant Visa and Alien Registration. Form DS -230 must be submitted by the eligible dependents along with the primary applicant. Two photographs of the principal applicant and the family members must also be submitted while applying for an immigrant visa. The bar code sheet from your original selectee notification letter along with the above mentioned forms must be sent to the Kentucky Consular Center.
Before you get your interview notification, obtain all the necessary civil documents with translations, if the documents are not in English. You must obtain documentation related to your qualifying education or work experience. Your birth certificate with your name, date of birth and names of both your parents must be submitted. Other documents such as court and prison records, deportation documentation, if you were already deported from America, marriage certificate if you are married, marriage termination documentation if divorced, military and police records must be obtained.
After all your documents are received and verified by the Kentucky Consular Center(KCC), you will receive an immigrant visa interview appointment letter. The letter will contain details about the date, location and time of your interview. You must appear for the interview along with your eligible dependents such as spouse and children, if they are applying for an immigrant visa, to immigrate along with you to the United States. The KCC will send all your documents to the US consulate or the US embassy where you will be required to appear for the interview.
Before the Green Card lottery immigrant visa interview, the selectees will be required to complete a medical exam and get vaccinated accordingly. The applicants must schedule a medical exam appointment choosing from the list of required Panel Physicians, in their home countries.
You must prepare for the immigrant visa interview carefully. If you are not well prepared for the interview, it may result in delay or denial of the immigrant visa. Make sure that you carry with you the required documentation such as your passport valid for six months and original documents or certified copies of the required civil documents. The DV lottery visa fee must be paid during the immigrant visa interview.